Opis produktu
The Gumba deformation-slip bearings expand the abilities of elastomer bearings with respect to transfer of horizontal shifts.
Deformation-slip bearings are made up of a reinforced elastomer bearing, a slip device and, if required, a structure transferring horizontal forces.
The elastomer bearing takes over the smallest movements stemming from horizontal loads, and allows turns of the bearing about horizontal axes. Horizontal shifts exceeding the elastomer bearing's deformation abilities are achieved by the slip device, meaning, the interacting teflon with the austenitic sheet steel.
Due to great options of shifting, these bearings are equipped with a shift measurement control device as standard.
When constructing deformation-slip bearings, close co-operation between the site designer and the bearing manufacturer is necessary.
Usually, three types of deformation-slip bearings are used

1.4 Multi-directional slip bearing (VG2)

1.3 Lengthwise slip, crosswise fixed bearing (VG1)

1.5 Lengthwise slip, crosswise deformation bearing (VGE3)
Bearing types
1.4 Multi-directional slip bearing (VG2)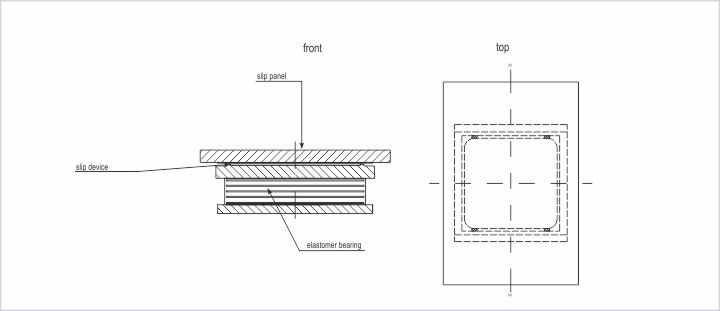 1.3 Lengthwise slip, crosswise fixed bearing (VG1)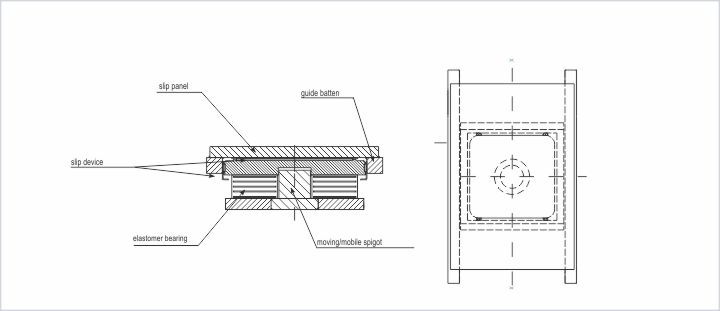 1.5 Lengthwise slip, crosswise deformation bearing (VGE2)