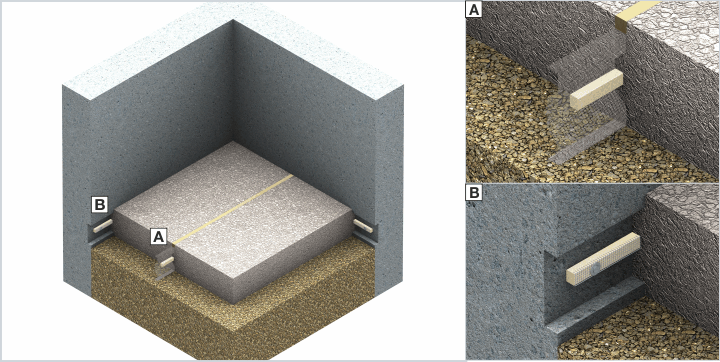 The FORBENT S and FORBENT G are types of tape bands that swell up under the influence of humidity and groundwater under pressure. The swelling, to a great extent, depends on the material, hydrostatic pressure and pH quality of the liquid and the time of its influence on the band. Swell bands take water into their structure, increasing volume.
Properly concreted and embedded FORBENT swell bands, through size increase, fill up concrete pockets and cracks, insulating the day joint against further liquid penetration. In order for swell pressure, counteracting the liquid pressure, to be able to arise, and in order for the band to be able to fulfil its function, it must be completely covered in concrete. The use of swell bands as protection of expansion joint is a construction error.
Appropriate installation of FORBENT swell bands must be conducted a two stages of concreting of a structure or during the execution of insulation of pre-cast components with a specially prepared interlocking joint. The component to be protected should be made of concrete with appropriate compression resistance, because, during swelling, both the type S as well as the type G FORBENT bands exert high swell pressure, achieving in laboratory conditions respectively approx. 6,85 MPa and 4,17 MPa of swell pressure in a free state.

| | |
| --- | --- |
| FORBENT swell band functioning diagram | FORBENT swell band installation diagram |
System FORBENT
Symbol

h
[mm]

a
[mm]

L
[m]


Package

Sales
unit

Unit

Weight [kg]

Art. no.

FORBENT swell band type S 18x23 mm

18

23

5,00

40 mb/box

5 mb

mb

0,68

SU-TP-FX-0-02005

FORBENT swell band type G 5x20 mm

5

20

15,00

150 mb/box
15 mb

mb

0,14

SU-TP-FX-0-02004

FORBENT swell band type G 10x20 mm

10

20

10,00

80 mb/box
10 mb

mb

0,27

SU-TP-FX-0-02003

Mounting batten

-

-

1,00

40 szt./bunch

40 mb

mb

0,23

SU-TP-FX-0-02001

Mounting grip

-

-

-

500 szt./bag

500 pcs.

pcs.

0,01

SU-TP-FX-0-29063

Steel mesh L=1,25

-

-

1,25

40 szt./bunch

50 mb

mb

0,12

SU-TP-FX-1-29081

Betofix joint adhesive 290 ml

-

-

-

12 szt/box
1 pcs.

pcs.

0,48

CH-KZ-00-0-02775

Betofix joint adhesive 600 ml

-

-

-

12 szt/box
1 pcs.

pcs.
1,00

CH-KZ-00-0-02776

Betoquell smoothing and sealing paste

-

-

-

20 szt/box
1 pcs.

pcs.
0,50

CH-KZ-00-0-02781

Overview of materials
FORBENT swell band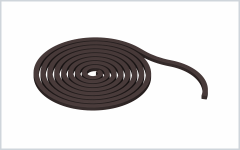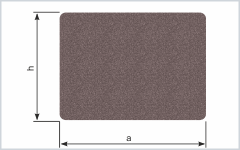 The flexible structure and relatively small cross-section of the swell tape ensure easy assembly at the prepared joint. Small dimensions simplify band storage and transport.
Steel mesh
The structure of the steel mesh ensures equal pressure of the swell band. The perforated surface simplifies easy nailing to concrete.
Mounting batten
The structure of the mounting batten ensures equal pressure of the swell band to the installation surface. The openings in the top batten part allow swelling to take place in any direction.
Mounting grip
Appropriately shaped mounting grips ensure tight adhesion of the swell band to the surface. An additionally executed openings allows simple nailing to concrete or attachment using quick-mount studs.
Betofix joint adhesive
The Betofix adhesive is a single-component paste-like material, used as adhesive and sealant, on a silane-modified polymer base, which becomes flexible under the influence of humidity.
Thanks to the fast hardening process, the Betofix adhesive differs from other similar products. Should the sealing bands not be welded together properly, they can be additionally filled with Betofix adhesive. The ability of joining both PVC products as well as steel and concrete simplifies the installation of swell bands on these surfaces using adhesive.
After hardening, the adhesive exhibits excellent physical properties such as: flexibility similar to rubber, and high adhesion.
Betoquell smoothing and sealing paste
The Betoquell paste is used for mounting swell bands on uneven surfaces and for making glued overlay joints. It is also possible to replace FORBENT swell band with the Betoquell mass on short sections.
Property

Unit

Property

Test method

FORBENT typ S

FORBENT typ G

External view

-

band in the form of a rope with a rectangular cross-section; grey or graphite in colour; no cracks, deformations of the cross-section, flaws on product outer surface and band parts adhering to each other
band in the form of a rope with a rectangular cross-section; dark-green in colour; no cracks, deformations of the cross-section, flaws on product outer surface and band parts adhering to each other
wg pkt. 5.6.1. z AT-15-5849/2009

Dimensions

thickness

mm
18,0 ±10%

5,0 (10,0) ±10%

wg pkt. 5.6.2. z AT-15-5849/2009

width

23,0 ±10%

20,0 ±10%

Density

Mg/m3

1,57 ± 10%

1,26 ± 10%

PN-ISO 2781+ AC1:1996 (metoda A)

Humidity in dry air conditions

%

≤ 7

≤ 4

PN-88/B-04481

Humidity after concluded swelling

%

450 ± 10%

220 ± 10%

PN-88/B-04481

Swell factor
%

≥ 250

≥ 210

wg pkt. 5.6.3. z AT-15-5849/2009

Swell time
doba

9 ÷ 11

18 ÷ 22

wg pkt. 5.6.3. z AT-15-5849/2009

Swell pressure

kPa

≥ 6000

≥ 3500

wg pkt. 5.6.4. z AT-15-5849/2009

Water resistance, no leaks at pressure*

MPa

0,2

0,3

ZAUT-15/IV.13/2002
i pkt. 5.6.5. z AT-15-5849/2009
Water resistance after drying, no leaks at pressure*

MPa

0,2

0,3

ZAUT-15/IV.13/2002
i pkt. 5.6.6. z AT-15-5849/2009

Usage
The FORBENT S and FORBENT G are foreseen for execution of horizontal and vertical seals of day joints required during concreting of concrete and reinforced concrete components, susceptible to influence of humidity and groundwater at hydrostatic pressure of up to 10 m of water column (value obtained with safety factor of 2).
They may be used to secure joints of existing buildings with newly-designed ones. FORBENT bands are utilised as seals of day joints during concreting of engineering structures, buildings that may be located under the local ground water level and susceptible to periodic changes of elevation of underground water courses.
If the pre-cast component interlocks are designed and executed correctly, FORBENT swell band may be used for sealing together with the Betoquell swell paste as void filler. The FORBENT swell band system may be used as protection of passages of pipes through slabs and shields in structures susceptible to water creep.
Swell bands may provide protection of rolled profiles of temporary pillars passing through foundation slabs and all kinds of joints of concrete with steel parts or combined structures. The FORBENT bands have found use in potable water tanks, and their liquid contact safety is certified by Polish Hygiene Certificate (Pl. Atest Higieniczny) no. HK/W/OO46/01/2008.
Installation instructions
The beginning of the swelling process of FORBENT bands is delayed with respect to first contact with water, which causes the band not to absorb batch water.
In case of water creep at an insulated joint, one should wait for the profile swell process to conclude (the swell time depends on the band type).
In case of use of swell bands in an environment exhibiting highly aggressive chemical properties, one should conduct a band swell trial in water taken from the soil or the relevant process liquid that shall be in contact with the structure during normal later use.
When gluing FORBENT swell bands to pipes or steel components with a closed circumference, the band may be tied to the pipe with tie wire or affixed using self-adhesive tape.
In conditions of hydrostatic pressure, the width of the slit in components sealed with type S FORBENT swell bands should not exceed 0,5 mm.
Installation
The installation of swell bands of FORBENT type s and type G is very simple and depends on the relevant material and the assumed structural solutions of the day joint to be insulated. Swell bands may be laid out both on flat as well as on irregular concrete surfaces. Before installation, contaminants need to be removed from the day joint, pieces of ice need to be melted, quiescent water and cement mortar need to be removed. The concrete base must have a dry outer surface.
The seal of the gap to be protected is influenced by the quality of the executed concrete component. It should have no flaws, pockets or cracks. During installation, the band should be placed in the axis of the future joint, adapting its course and layout to the shape of the component to be protected. Its elastic properties and small cross-section allow adaptation even to the most complicated joint shapes. In this regard, one needs to remember about the required coverage of the band with concrete, amounting to at least 100 mm between the band edge and the concrete outer surface.
Equal minimum concrete cover values should be used when protecting joints with additional swell bands or the P-100 injection hose. When securing day joints of components with notable thickness values (exceeding 30 cm), it is recommended to arrange the swell band at a distance of approx. 1/3 from the side of water intrusion. After correct designing of the layout of the swell band along the joint to be sealed, it has to be permanently affixed to the base layer protecting it against shifting during concreting.
This can be done using steel mesh, mounting battens, by precise attaching it to the concrete with nails (by hand or gun), installation grips or using appropriate adhesives. In case of point mounting, the band needs to be affixed to the surface with nails having a minimum length of L = 32 mm, spaced up to 150 mm apart, using installation grips or directly through the band profile.
This activity should be executed in a way preventing the emergence of waviness, or air pockets, between the concrete component and the swell band. In case of joints that are chiselled out or have a point texture, the band needs to be affixed at each spot where the base layer changes shape, ensuring as best adherence to the surface as possible. When such a method of attachment is used, one should particularly take care for the swell band not to break. Permanent fixing using meshes and battens as well as adhesive ensures a better seal.
The use of steel meshes and mounting battens requires a more even base surface, ensuring equal pressure. Nails with a minimum length L = 32 mm at a maximum spacing of 250 mm need to pass through the swell band with the attached pressing component.
At joints that provide no option of using nails (metal components, pipes, thick rebar lattice preventing free use of a hammer or nail gun, the band may be affixed using Betofix glue. The material, as a thick mass, is applied onto a clean surface, and one should try to maintain continuity of the applied layer. Onto such a prepared base layer with the attached adhesive, the swell band should be applied, and the installation specialist needs to ensure pressure until the time of binding of the adhesive layer.
An important aspect influencing the seal of the day joint sealing entire system using swell bands is maintaining installation continuity. Joints between subsequent sections of swell bands should be made flat or diagonal, with a side overlay along 50 mm to 100 mm.
In case of structure bends or corners, preventing band mounting, joint protection continuity may be ensured utilising the Betoquell adhesive and sealing paste. The paste material is applied to the surface, which should be prepared in the same way as for adhesive installation, with continuity between the ends of swell bands striven for. After the Betoquell mass layer is squeezed out of its container, the concrete may be laid out on it after at least six hours.
In ambient conditions diverging from those for which the mass properties were determined, binding may take place after a different time period, and hence, a determining factor may be the creation of a top jacket layer, preventing seal break, on it. One should also remember in this respect that the seal bands should be mounted as late before concreting as possible.
In order to prevent premature swelling of the swell inlay, it needs to be protected from atmospheric influences (humidity, rainfall and snow as well a long-term direct sunlight) after it is laid out. Bands that have already started swelling should not be installed. If band swelling begins after installation, then it has to be replaced, or the joint needs to be additionally protected by a subsequent swell band or a P-100 injection hose (if the width of the part to be protected would allow this).
An additional solution might be the application of the Betoquell adhesive and sealing paste along the installed band. When aiming to protect a structure with day joints or expansion slits protected by Besaplast sealing bands, the swell band has to be laid out as close as possible to the arms or anchors of the seal band. If the swell band is mounted correctly, concreting the neighbouring structure component should be conducted in such a way so that the band is fully encased in the concrete.
| | |
| --- | --- |
| | |
| Step 1. Band arrangement along the joint to be protected | Step 2. Nailing the band to the surface |
| | |
| Step 3. Sealing of vertical slits | Step 4. Execution of joint - overlay joining |
| | |
| Step 5. Further structure concreting | |

FORBENT type S
The ability of the FORBENT type S band, sized 18 x 23 mm, to swell, stems from the structure of the bentonite loam, and precisely one of its components - montmorillonite (MMT), which has very good absorptive properties. The sorbent particles, with very good cation exchange properties, absorb the liquid phase components (OH- groups) in contact with it.
The macroscopic arrangement of the MMT shows its three-layer packet structure, the panel interior arrangement of which is composed of three layers joined with each other (2:1). Montmorillonite constructed in this way is a hydrophilic material, characterised by its ability to lock water particles in the spaces between the packets (between the layers).
The process of losing or absorbing water in the space between packets occurs in a constant manner and is reversible. With time, the FORBENT type S band dissolves into minuscule particles, and in its final stadium takes the form of a gelatinous mass. This leads to sealing of small cracks and the tiniest of defects in direct contact with the swell band.




FORBENT type G
The FORBENT type G swell band is manufactured on a polychloroprene (neoprene) basis, which is resistant to tearing, ageing and fire, and manufactured according to DIN 4102, with highly hygroscopic and strong-swelling polymer resins embedded in it. Even if it should swell up and dry up, the band does not lose its ability to swell up again. This band, even in its swollen state, retains very good mechanical properties.
After the water flows away, the band remains in its swollen state. High chemical resistance to acids, alkali compounds, petrol, fuel oil, mineral oil and organic substances lets one use it as insulation for day joints at sewage treatment plants and any kinds of structures susceptible to an aggressive outside environment. It is supplied in two forms, as band with a 5 x 20 mm cross-section, and with a 10 x 20 mm cross section.




Packaging
Unless agreed upon otherwise, the FORBENT swell band is delivered in cardboard boxes in the form of rolls, with 5 m, 10 m or 15 m length.


Storage
The FORBENT swell band should be stored in its original packaging, in dry rooms, at a temperature not exceeding 25 °C, away from sources of heat, and away from the influence of sunlight. The packages may be stacked up to a maximum height of one metre.



Transport
Fumax swell bands may be transported in any chosen way, protecting them from mechanical damage and the influence of weather conditions, in particular - rain.