The Betoflex insulating sheet steel system is a system used for insulating day joints created during concreting of concrete and reinforced concrete structures that are constantly or periodically under threat of influence of water or process liquids. The basic system component is galvanised insulating sheet steel with synthetic bentonite bands cured at its edges. This novel method of curing the swell material guarantees a permanent join between the sheet steel and the swell material. This, in effect, creates a double protection line against penetrating water. Betoflex insulating sheets are delivered in sections of 25 r. m., which allows quick and efficient installation. In addition, should the customer require a special variant, Betomax can prepare Betoflex rolls 10 or 15 running metres in length.
A further component of the system are mounting rails and clamps. The insulating sheets are stabilised in the structure (reinforcement bar arrangement) by Betoflex mounting clamps, tied to the rebar with tie wire. Appropriately mounted clamps prevent movement of the sheets during steel fixing, reinforcement and concreting work. Using our mounting rails to achieve mechanical connections between the steel sections, one achieves 100% insulation in case of a properly executed joint, and as a result, tightness of the entire concreting day joint insulating system.

| | |
| --- | --- |
| Concreting day joint insulating diagram for joints insulated by Betoflex sheets. | Joint execution diagram |
System BETOFLEX

Symbol

Package

Sales
unit

Unit

Weight
[kg]

Art. no.

BETOFLEX insulating sheet steel L=25m

25 mb/box

25 mb

mb

1,10

SU-BU-BF-1-07915

KS150/BETOFLEX mounting rail

1 pcs.

1 pcs.

pcs.

0, 25

SU-TU-KB-1-08632
BETOFLEX Mounting clamp

50 pcs.

1 pcs.

pcs.

0,10

SU-BU-BF-1-07917

OVERVIEW OF MATERIALS
Betoflex insulating sheet steel

Mounting rail

Mounting clamp
Geometric, physical and chemical properties of Betoflex insulating sheet steel
Property

Unit

Requirements

External form


Galvanised sheet steel. Dark-green bentonite mass. No mechanical damage.
Sheet steel type


DX51D

Sheet steel thickness
mm

0,75 ÷ 0,80 ± 5%

Sheet steel corrosion protection coat
μm

≥ 10

Bentonite mass layer thickness
mm

≥ 4 wg

Edometric bentonite swell factor
%

≥ 60

Bentonite swell time until maximum mass
24-hour period
5-14

Initial swell time
24-hour period
1-2

Bentonite mass swell pressure
kPa

≥ 600

Bentonite mass free swell, designated by mass gain:


pH=7

%

≥ 400

pH=12,5

≥ 17

pH=4,5

≥230

Thickness of day joint at width of 0,25 mm, insulated with Betoflex insulating sheet steel system


No leak after three test cycles. Cycle spans seven days of water influence under 0,7 MPa and six weeks of drying.
Usage
The Betoflex insulating sheets may be used in potable water tanks, and their liquid contact safety is certified by Polish Hygiene Certificate (Pl. Atest Higieniczny) no. ZH/HK/W/1020/01/2011. The use of Betoflex insulating sheet steel is not limited to joints susceptible to inert liquids.
Thanks to their great chemical resistance, they can successfully be used in sewage treatment plants, channels and tanks foreseen for storage of process liquids as well as in heavy industry or chemical manufacture plants or in the energy industry.
The use of Betoflex insulating sheet steel ensures tightness of day joints for constant water pressure values not exceeding 0,28 MPa (value designated with a safety factor of 2,5) and in situations of multiple instances of water influence and seasonal diminishing.
The Betoflex insulating band system should be used as water-tight protection of day joints at intersections of:
bottom (foundation) slabs and tank (foundation) walls,
subsequently concreted sections of foundation (tank) wall (wall-wall-joint), both vertically as well as horizontally,
concreting of neighbouring parts of the foundation slab (slab-slab-joint),
pre-cast components with concrete poured at the construction site upon prior concreting in the pre-cast part,
walls and ceilings.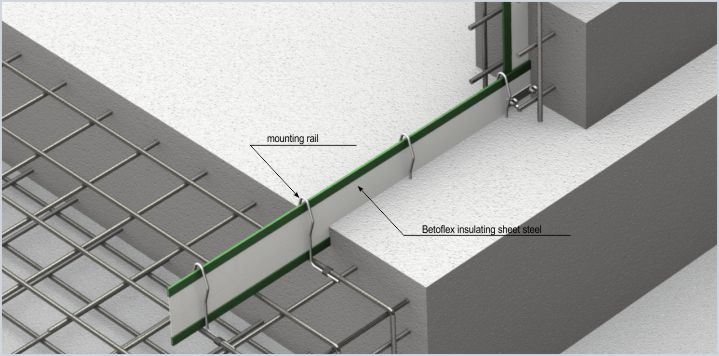 Packaging
The Betoflex insulating sheet steel is supplied in cardboard boxes together with clamps. The package may contain: 10, 15, 20 or 25 running metres of Betoflex sheets. The Betoflex clamp count depends on the steel sheet length.


Storage
Betoflex insulating sheet steel should be stored in its original packaging, in dry rooms at a temperature between 0 °C and 30 °C, far from heating devices, in piles not exceeding one metre in height, not under threat of direct sunlight (UV light).
Transport
Betoflex sheet steel should be protected against mechanical damage and against unfavourable chemical influences during transport.
Installation
The Betoflex insulating sheet steel is installed in the wall axis or in the axis of any structural component to be protected, before concreting. In the first concreting stage, the sheet is embedded in the concrete down to a depth of at least 4 cm. In case of installation of the sheet steel at the intersection of the foundation slab and the wall, one can use rebar cover to embed the sheet steel, mounting it on the upper reinforcement bar lattice.
Should the design foresee the execution of rebar covers according to PN-EN 1992 with a value of cmin = 40 mm, one should execute an additional threshold (interlock) in the concrete slab allowing the achievement of a minimum concreting depth. Proper embedding of sheet steel at the spot of target concreting is guaranteed by mounting clamps moved onto the sheets, with at least two of them per one running metre of Betoflex insulating sheets. The mounting clamps should be tied to the rebar with tie wire.
The individual band sections are joined using overlays: 100 mm (minimum length). The overlay should be done using a system mounting rail. Betoflex insulating sheet joints with Besaplast sealing bands protecting the structure should be created using mounting rails. In case of insulating non-linear day joints (structure round parts, corners), the sheets should be bent appropriately to provide them with the relevant shape.
Mounting clamp spacing diagram for Betoflex insulating sheet steel installation on horizontal and vertical day joints.
| | |
| --- | --- |
| Joining of insulating sheets with with internal sealing tape for day joints and expansion joints. | Embedding of vertical controlled induced crack pipes of type Besaflex S on the insulating sheet. |
| | |
| --- | --- |
| | |
| Step 1. Rolling out the Betoflex sheet. | Step 2. Arrangement in the wall axis. |
| | |
| Step 3. Embedding of mounting clamps. | Step 4. Bending the corners appropriately. |
| | |
| Step 5. Joining subsequent sheet steel sections. | Step 6. Concreting of subsequent structure components. |