Crosswise head
Crosswise head
Symbol

Package
[pcs.]

Sales unit
Weight
[kg/pcs.]
Art. no.

Crosswise head
1

pcs.

2,50
SS-XX-00-0-01934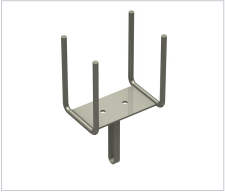 The crosswise head is made of ordinary S235JRG2 hot-dip galvanised steel, manufactured according to Polish Standard PN-EN ISO 1461. As a component, it allows the formwork ceiling beams, be it ordinary wooden beams (battens) or a grid, or alternative a full centre arrangement, to be supported directly. The crosswise head is a component of the formwork system, which, together with the (height-adjustable) support structure, forms one complete whole ceiling slab formwork support system. During assembly of the system, one should consider the stability of the support components (stabiliser tripod) and their vertical arrangement.
Stabiliser tripon
Stabiliser tripon
Symbol

Package
[pcs.]

Sales unit
Weight
[kg/pcs.]
Art. no.
Stabiliser tripon
1

pcs.

8
SS-ST-00-0-01940

The tripod is made of S200305-type hot-dip galvanised steel. The tripod height is approx. 840 mm, the space requirement after set-up is approx. 0,85 m2.
Usage:
The tripod is used for adjustable ceiling supports (from ø 40 mm to ø 80 mm) as a stabilising component during the initial assembly phase.
The tripod does not transfer any forces acting on the support. The articulated form of the tripod leg mounts allows the support to be set down both in the corner as well as directly beside a wall.
Transportation basket
Transportation basket
Symbol

Dimensions [mm]

Package
[pcs.]

Sales unit
Weight
[kg/pcs.]

Mass with maximum load
[kg]

Art. no.
a [mm]

b [mm]

c [mm]

Typ A

800

800

1200

1

pcs.
74,0
1200

SB-TW-MT-0-05979

Typ F (grid basket)
1100

1150

1200

1

pcs.

105,0

605

SB-TW-MT-0-05810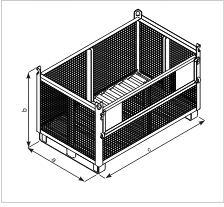 The containers are made of metal bars and a grid. The type A basket is welded, and uses a fold-away side, the type F basket (grid basket) has the option of fully collapsing its walls, greatly reducing the space requirement with respect to empty basket storage.
Usage:
The containers are used to store and transport diverse formwork equipment.