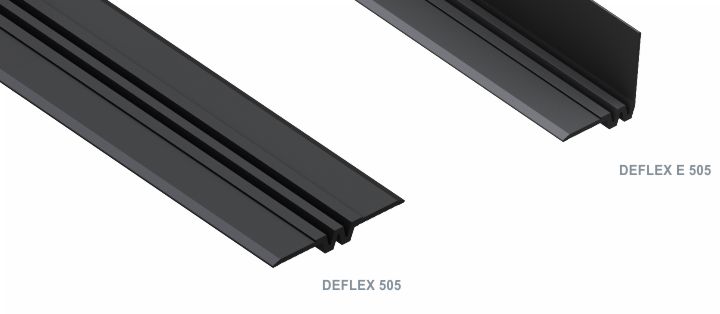 Technical description

Water-tight overlay profile made of Nitriflex synthetic material. Foreseen for installation on finished surfaces, at a later execution stage. It is characterised by aesthetic design, installation ease and full water-tightness.
The profile finds use in parking lots, multi-storey parking lots, underground parking lots and in wet rooms where water resistance is required.
The compression flat bar squares are installed directly on the profile arms. They can be made of aluminium, galvanised steel or alternatively stainless steel. The use of ribbed form profiles allows one to achieve a non-slip surface.
The profile conforms to fire resistance requirements for class E according to standard PN-EN 13501-1, according to which the products are able to stand up to the effects of a small flame without significant flame spreading - for a short time.
Profile available in flat and corner form.
Adhere to notices and remarks concerning installation.
Technical details
Flat bar profiles
505-020

505-050

Corner profiles
E 505-020

E 505-050

Fb [mm]

Nominal expansion slit width
20

50




B [mm]

Total expansion profile width
192

225

S [mm]

Visible profile width after installation
192

225
H [mm]

Installed height
8

8





BE [mm]

Total expansion profile width
105

115

SE [mm]

Visible profile width after installation
105

115

HE [mm]

Installed height
140
140

W ± [mm]

Expansion slit movement compensation
40(±20)
40(-15/+25)

Colour
black

Material
Compression formed elements - aluminium, stainless steel, galvanised steel.
Nitriflex elastic inlay - permanently elastic material, resistant among others to oils, bituminous masses, oxidation, acids, UV light, atmospheric conditions and temperature (to +65°C) as well as aging and road salt.
Load [kN]
Standard length [m]
16
Installation diagrams
DEFLEX 505-050


DEFLEX E 505-050