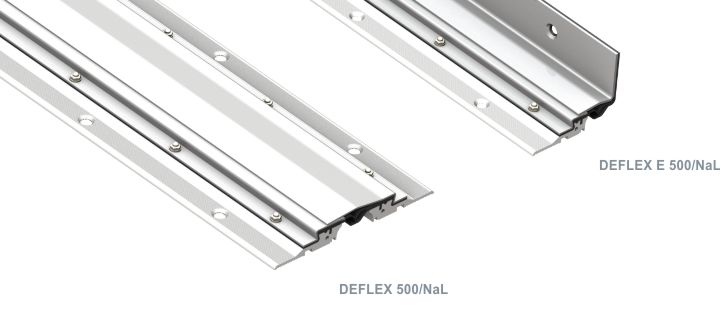 Technical description

This water-tight profile is made up of aluminium form profiles, a Nitriflex synthetic material inlay and protective covers made of stainless steel. It is used for the execution of expansion slits in surfaces with any kind of finish. It is characterised by an aesthetically pleasing design and full water tightness.
The profile finds use in parking lots, multi-storey parking lots, underground parking lots, pedestrian overpasses, ramps, swimming pools and in wet rooms where water resistance is required. It may in particular be used for floors made of polyurethane or resin.
The synthetic material inlay is joined into one section through welding. Should it become necessary, the sealing inlay may be replaced during site operation without damage to the neighbouring floor surfaces or the top layer.
It is also possible to replace the protective stainless steel covers. The stainless steel covers may in addition be executed as non-slip covers.
The profile is resistant to traffic salt, aggressive agents (i. e. petrol) and other external influences.
It is also possible to execute complicated water-tight mounting shape profiles allowing the execution of all kinds of processing work at the site.
The profile conforms to fire resistance requirements for class E according to standard PN-EN 13501-1, according to which the products are able to stand up to the effects of a small flame without significant flame spreading - for a short time.
Profile available in flat and corner form.
Adhere to notices and remarks concerning installation.
Technical details
Flat bar profiles
500/NaL-030
500/NaL-050

500/NaL-050 W

Corner profiles
E 500/NaL-030

E 500/NaL-050

E 500/NaL-050 W

Fb [mm]

Nominal expansion slit width
30

50

50





B [mm]

Total expansion profile width
190

220

220

S [mm]

Visible profile width after installation
80

110

110

H [mm]

Installed height
30

30

30





BE [mm]

Total expansion profile width
115

140

140
SE [mm]

Visible profile width after installation
55

85

85

HE [mm]

Installed height
118
118

118

W ± [mm]

Expansion slit movement compensation
30(±15)

40(±20)

60(±30)

Colour
stainless steel - natural; aluminium - natural; elastic inlay - black
Material
Load bearing elements – aluminium
Nitriflex elastic inlay - permanently elastic material, resistant among others to oils, bituminous masses, oxidation, acids, UV light, atmospheric conditions and temperature (to +65 °C) as well as aging and road salt.
Covers - stainless steel.
Load [kN]
Standard length[m]
Load bearing elements - 4, covers - 2 and 4, inlay - 50

Installation diagrams
DEFLEX 500/NaL-050


DEFLEX E 500/NaL-050