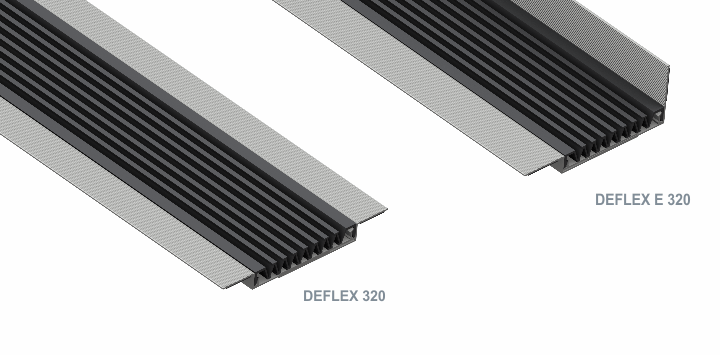 Technical description
Overlay profile made of high-impact synthetic material (HPVC), and a flexible elastomer inlay, foreseen for installation on finished interior and exterior building surfaces.
May be used as finishing for expansion slits both on walls as well as on ceilings with any kind of finishing. Thanks to the use of an elastomer inlay, the profile is characterised by very good ability to compensate for movement of the expansion joint. The profile has a replaceable elastomer inlay, supported from the underside by synthetic material battens.
The installation profiles are laminated from the underside with cellulose rubber, allowing the evening out of small roughness spots of the surface during installation.
Profile conforms to fire resistance requirements for class E according to standard PN-EN 13501-1.
Profile available in flat and corner form.
Adhere to notices and remarks concerning installation.
Technical details
Flat bar profiles
320-050

320-080

320-100

320-120

Corner profiles
E 320-050

E320-080

E 320-100

E 320-120

Fb [mm]

Nominal expansion slit width
50

80
100

120



B [mm]

Total expansion profile width
140

170

190

210



S [mm]

Visible profile width after installation
140

170

190

210



H [mm]

Installed height
15

15

15

15



BE [mm]

Total expansion profile width
115

145

165

185



SE [mm]

Visible profile width after
145
145

165

185



HE [mm]

Installed height
45

45

45

45

W ± [mm]

Expansion slit movement compensation
20 (±10)

30 (±15)
35 (+20/-15)

50 (±25)

Colour
grey 1)

Material
H-PVC - hard polyvinyl chloride, having good thermoplastic properties and high mechanical resistence.
Besaflex elastic inlay - outdoor material, resistant to aging, oxidation, atmospheric influences and temperature fluctuations (from -30 °C to +60 °C), as well as influences by i. e. acids and bases. The elastic inlay is manufactured according to plant standards.
Standard length [m]
Load bearing profiles - 4, elastic inlay - 20 2)
1) Upon request, the profile may be manufactured in any RAL colour - at extra cost.
2) Inlays may be manufactured in sections exceeding 20 m in length upon request
Installation diagrams