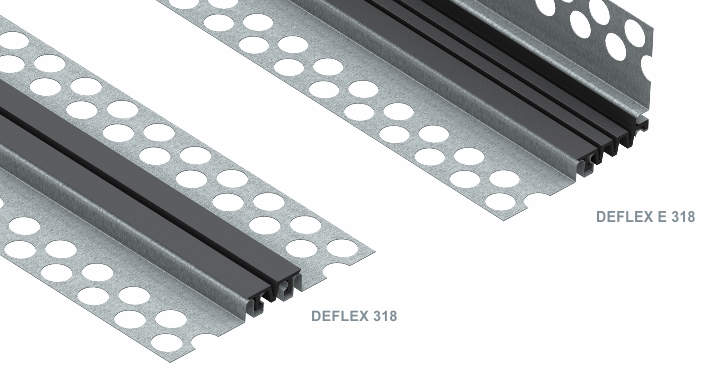 Technical description
Finishing profile foreseen for permanent installation in plaster using perforated profiles made of galvanised sheet steel.
May be used for finishing of expansion joints both on wall as well as on ceiling surfaces, with any kind of finishing.
Profile foreseen for installation indoors.
Specially shaped load bearing profile forms are completely masked by the elastomer inlay.
The use of an accordion elastomer inlay allows the profile to compensate for movement of buildings both horizontally as well as vertically (slip joint of the inlay with the profile) very well.
Profile conforms to fire resistance requirements for class E according to standard PN-EN 13501-1.
Profile available in flat and corner form.

Adhere to notices and remarks concerning installation.
Technical details
Flat bar profiles
318-030

318-050

Corner profiles
E 318-030

E 318-050

Fb [mm]

Nominal expansion slit width
30

50



B [mm]

Total expansion profile width
137

163



S [mm]

Visible profile width after installation
37

100



H [mm]

Installed height
11 /14 / 20

11 /14 / 20



BE [mm]

Total expansion profile width
74

100



SE [mm]

Visible profile width after
20

40


HE [mm]

Installed height
11 / 14 / 20

11 / 14 / 20

W ± [mm]

Expansion slit movement compensation
7 (+5/-2)

16 (+10/-6)

Colour
elastic inlay - black, grey, creamy white 1)
Material
Load bearing profiles - galvanised sheet steel.
Nitriflex elastic inlay - permanently elastic material, resistant among others to oils, bituminous masses, oxidation, acids, UV light, atmospheric conditions and temperature (from -30 °C to +60 °C) as well as aging and road salt. Material conforms to requirements of standard DIN 18541
Standard length [m]
Load bearing profiles - 3, elastic inlay - 20 2)
1) Upon request, the profile may be manufactured in any RAL colour - at extra cost.
2) Inlays may be manufactured in sections exceeding 20 m in length upon request
Installation diagrams