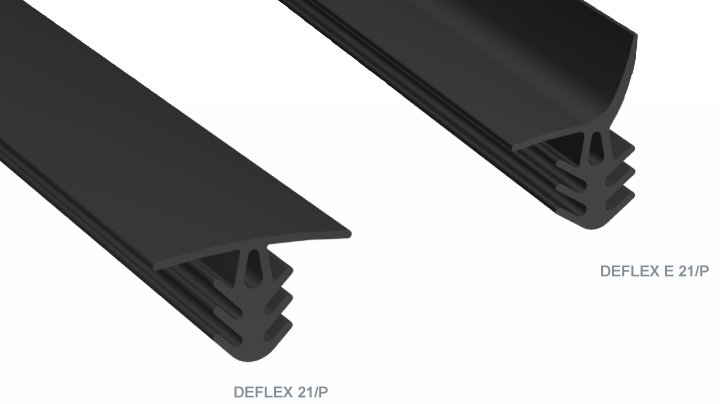 Technical description
Flexible profile, manufactured entirely of thermoplastic elastomer. Its advantage is the option of installing it in expansion slits having irregular and damaged edges, which are masked by the top profile part. Profile foreseen for expansion slits in walls and façades made both from monolithic concrete, as well as from pre-cast components.
High material flexibility and elasticity facilitate easy and quick profile installation. The profile may be used both indoors as well as outdoors. Specially profiled side surfaces ensure proper embedding in the expansion slit, and accordingly - protecting the expansion slit against water intrusions.
The profile should be installed in an expansion slit with untrimmed edges.
Profile available in flat and corner form.

Adhere to notices and remarks concerning installation.

Technical details
Flat bar profiles
21/P-010

21/P-015

21/P-020

21/P-030

Corner profiles
E 21/P-010

E 21/P-015

E 21/P-020

E 21/P-030

Fb [mm]

Nominal expansion slit width
10

15

20

30



B [mm]

Total expansion profile width
25

35

45

75



S [mm]

Visible profile width after installation
25

35

45

75



H [mm]

Installed height
25

30

35
40



BE [mm]

Total expansion profile width
20

30

40

50



SE [mm]

Visible profile width after
20

30

40
50



HE [mm]

Installed height
35

45

50

75

W ± [mm]

Expansion slit movement compensation
3 (+2/-1)

3 (+2/-1)

7 (+2/-5)

7 (+2/-5)

Colour
black and grey 1)
Material
Thermoplastic elastomer (TPE) - material resistant i. e. to aging, UV light, temperature influences (from -40 °C to +60 °C), characterised by very good elastic characteristics at low temperatures. Very good thermal forming properties.
Standard length [m]
2,5

1) Upon request, the profile may be manufactured in any RAL colour - at extra cost.
Installation diagrams
DEFLEX 21/P

DEFLEX E 21/P