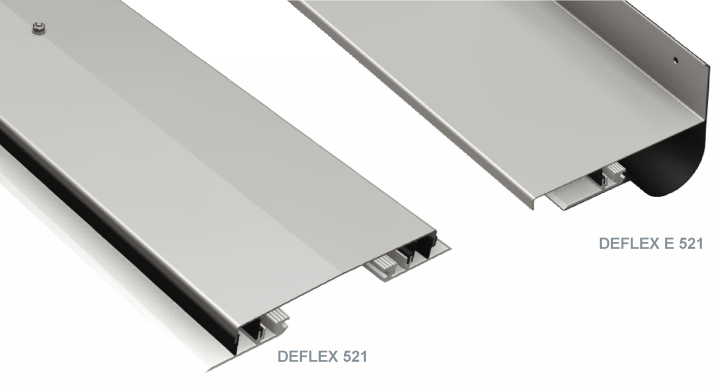 Technical description

Roof profile made of aluminium and Nitriflex synthetic material. it is characterised by its very good ability to compensate expansion slit movements and full tightness thanks to the use of integrated washers on the profile sides. They provide additional protection against humidity and contamination.
The profile is composed of load-bearing aluminium components, affixed to the surface, connected with washers made of Nitriflex synthetic material to the top aluminium cover.
An option, available at extra charge, is the possibility of executing the top cover of stainless steel.
The profile finds use on flat roofs, ceiling roofs, etc.
Profile available in flat and corner form.

Adhere to notices and remarks concerning installation.
Technical details
Flat bar profiles
521-050

521-100

521-150

Corner profiles
E 521-050





Fb [mm]
Nominal expansion slit width
50

100

150



B [mm]

Total expansion profile width
200

300

400

S [mm]

Visible profile width after installation
200

300

400

H [mm]

Installed height


37







BE [mm]

Total expansion profile width
150

250

350

SE [mm]
Visible profile width after
150

250

350

HE [mm]
Installed height


100



W ± [mm]

Expansion slit movement compensation
100(±50)

200(±100)

300(±150)

Colour
aluminium - natural, elastic inlay - black
Material
Aluminium - properties according to standard PN-EN 755. Nitriflex - permanently elastic material, resistant among others to oils, bituminous masses, oxidation, acids, UV light, atmospheric conditions and temperature (from -30 °C to +60 °C) as well as aging and road salt. Material conforms to requirements of standard DIN 18541.
Standard length [m]
3

Installation diagrams
DEFLEX 521-050


DEFLEX 521-050

DEFLEX 521-080