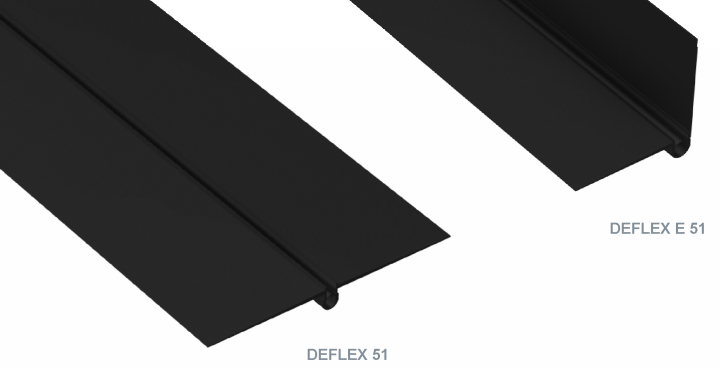 Technical description

Roof profile made of Nitriflex synthetic material. it is characterised by high flexibility, resistance to hot bitumen materials and chemicals. Its advantage is its very good ability to compensate expansion slit movements. It finds use i. e. in underground parking lots, on flat roofs, balconies and terraces.
Profile joining is executed through welding. The material has good thermal conductivity, hence, for joining profile parts heaters with a power exceeding 300 W should not be used.
Shape form parts are made to order, and joined directly at the construction site.
It is possible to execute a broad variety of form profiles allowing the execution of diverse work at the site.
The material, of which the profile is made, allows it to be joined with components made of PVC (polyvinyl chloride) and NBR (nitrile butadiene rubber). The top profile part (nos. 51-015, 51-025, 51-080) forms a stabilising component simplifying installation, which is torn away as a result of work. The profile can only be mechanically fixed.
The profile conforms to fire resistance requirements for class E according to standard PN-EN 13501-1, according to which the products are able to stand up to the effects of a small flame without significant flame spreading - for a short time.
Profile available in flat and corner form.

Adhere to notices and remarks concerning installation.
Technical details
Flat bar profiles
51-015

51-015

51-050

51-080

Corner profiles
-
E 51-025

E 51-050

-

Fb [mm]
Nominal expansion slit width
15

25

50

80



B [mm]

Total expansion profile width
150

300

500

400

S [mm]

Visible profile width after installation
15

25

50

80

H [mm]

Installed height
25

45

55

50





BE [mm]

Total expansion profile width
-

164

275

-

SE [mm]
Visible profile width after
-

164

275

-

HE [mm]
Installed height
-

160

235

-

W ± [mm]

Expansion slit movement compensation
25(+15/-10)

40(±20)

50(±25)

60(±30)

Colour
black
Material
Nitriflex - permanently elastic material, resistant among others to oils, bituminous masses, oxidation, acids, UV light, atmospheric conditions and temperature (from -30 °C to +60 °C) as well as aging and road salt. Material conforms to requirements of standard DIN 18541.
Standard length [m]
25

Installation diagrams
DEFLEX 51-025