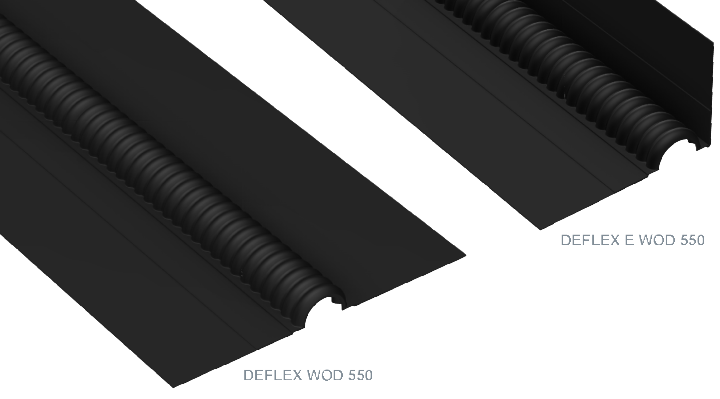 Product description
Roof profile made of Elastoflex synthetic material. it is characterised by high flexibility. It is resistant to hot bitumen materials and atmospheric conditions. Its advantage is the ability to compensate expansion slit movements in all directions. It finds use i. e. on green roofs, flat roofs and in underground parking lots.
The profile can be installed (joined) between bitumen layers or may be affixed mechanically.
The profile is available in diverse joint options. The installation profiles are in-house made, and joined at the construction site using a mobile curing set.It is possible to execute a broad variety of form profiles allowing the execution of diverse work at the site.
The profile conforms to fire resistance requirements for class E according to standard PN-EN 13501-1, according to which the products are able to stand up to the effects of a small flame without significant flame spreading - for a short time.
Profile available in flat and corner form.
Adhere to notices and remarks concerning installation.
Technical details
Flat bar profiles
WOD 550-120

Corner profiles
E WOD 550-120
Fb [mm]
Nominal expansion slit width
120



B [mm]

Total expansion profile width
550

S [mm]

Visible profile width after installation
120

H [mm]

Installed height
48





BE [mm]

Total expansion profile width
340

SE [mm]
Visible profile width after
340

HE [mm]
Installed height
210

W ± [mm]

Expansion slit movement compensation
120(±60)

Colour
black

Material
Elastoflex synthetic material - flexible material made from elastomers, or crossed large-particle polymers with large openings (synthetic rubber). Suitable perfectly for use in structures containing moving joints, subject to varying loads and low temperatures. The material conforms to requirements of standard DIN 7865.
Standard length [m]
60 1)

1) Upon request, the profile may be manufactured in sections exceeding 60 m.
Installation diagrams
DEFLEX WOD 550


DEFLEX E WOD 550

DEFLEX WOD 550