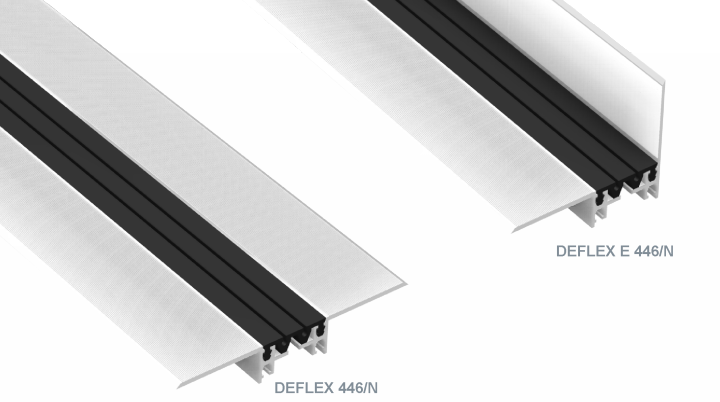 Technical description

Floor profile made of aluminium and Nitriflex® synthetic material, intended for installation on finished floor surfaces at a later construction stage. It is characterised by its ability to compensate for movement of its expansion joint both horizontally as well as vertically (slip joint of the inlay with the profile). The replaceable synthetic material inlay is also available smooth, with reduced accommodation ability (50% of the value for the standard inlay).
The profile structure allows replacement of the synthetic material inlay without any need to remove the profile components.
The profile finds use for various kinds of floor finishes, i. e. screed, natural stone, stone imitation, etc. Particularly recommended for use in parking lots and garages.
The profile conforms to fire resistance requirements for class E according to standard PN-EN 13501-1, according to which the products are able to stand up to the effects of a small flame without significant flame spreading - for a short time.
Profile is available as flat, a type E corner version and a type EV corner version.
Adhere to assembly remarks and indications.
Technical details
Flat bar profiles
446/N-020

446/N-030

446/N-050

446/N-065

446/N-100

Corner profiles
E 446/N-020

E 446/N-030

E 446/N-050

E 446/N-065

E 446/N-100

Fb [mm]

Nominal expansion slit width
20

30

50

65

100



B [mm]

Total expansion profile width
120

150

175

185

220


S [mm]

Visible profile width after installation
120

150

175
185

220



H [mm]

Installed height
17

26

26

26

30


BE [mm]

Total expansion profile width
55

85

110

120

155



SE [mm]

Visible profile width after installation
55

85

110

120

155



HE [mm]

Installed height
74

85

85

85

89

W ± [mm]

Expansion slit movement compensation
5(±2,5)

10(±5)

14(±7)
20(±10)

30(±15)

Colour
Aluminium - natural, elastic inlay - black and grey 1)
Material
Load bearing profiles - aluminium - properties according to standard PN-EN 755.
Nitriflex® elastic inlay - a permanently flexible material, resistant i. e. to oils, bitumen masses, oxidation, UV rays, atmospheric conditions and temperature (-30 °C to +60 °C), as well as ageing and traffic salt.
Load [kN]**


Standard length [m]
4

Installation diagrams
DEFLEX 446/N-050


DEFLEX E 446/N-050

DEFLEX 446/N-050