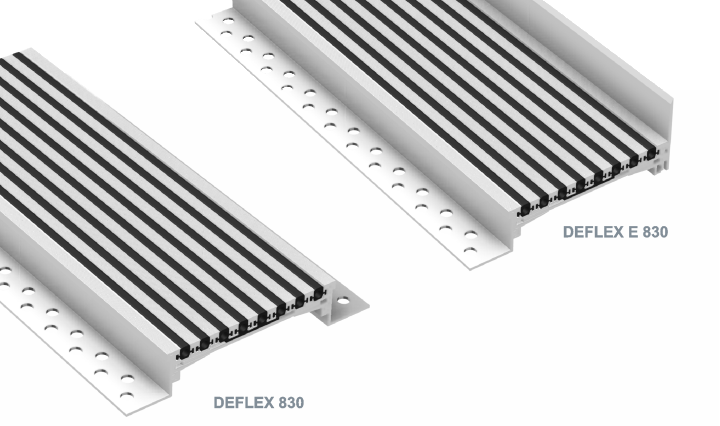 Technical description
Floor profile made of aluminium and Nitriflex® synthetic material, foreseen for installation on unfinished floor surfaces.
The profile has an elastic inlay with a smooth surface and a rippled outside surface of aluminium shape profiles.
It is characterised by appealing aesthetics and high compensation for vertical movements (cave-ins). Foreseen for primary use in seismically-active regions and in regions under threat of mining damage (cave-ins).
The profile finds use for various kinds of floor finishes, i. e. screed, natural stone, stone imitation, etc.
The profile conforms to fire resistance requirements for class E according to standard PN-EN 13501-1, according to which the products are able to stand up to the effects of a small flame without significant flame spreading - for a short time.
Profile available in flat and corner form.

Adhere to notices and remarks concerning installation.
Technical details
Flat bar profiles
830-120

830-160
830-200

830-260

830-300

Corner profiles
E 830-120

E 830-160
E 830-200

E 830-260

E 830-300

Fb [mm]

Nominal expansion slit width
120

160

200

260

300



B [mm]

Total expansion profile width
235/255*

280/300*

320/340*

385/405*

425/445*



S [mm]

Visible profile width after installation
145

190

230

295

335



H [mm]

Installed height
35/ 40*/ 50/ 55*/ 60/ 80/ 100



BE [mm]

Total expansion profile width
190/210
235/255*

275/295

340/360

380/400



SE [mm]

Visible profile width after installation
150

195

235

300

340



HE [mm]

Installed height
85/90*/100/105*/110/130/150
W ± [mm]

Expansion slit movement compensation

30(±15)

40(+25/-15)

45(+30/–15)

50(+35/–15)

60(+40/–20)

Colour
Aluminium - natural, elastic inlay - black and grey 1)
Material
Load bearing profiles - aluminium - properties according to standard PN-EN 755.
Nitriflex® elastic inlay - a permanently flexible material, resistant i. e. to oils, bitumen masses, oxidation, UV rays, atmospheric conditions and temperature (-30 °C to +60 °C), as well as ageing and traffic salt. Covers - stainless steel.
Load [kN]**


Standard length [m]
4


1) If required, it is possible to manufacture the profiles in any selected RAL palette colour - surcharge required.
* profile dimensions available upon request
** see load table in the 'Guidelines concerning expansion joint selection and design' tab
Installation diagrams
DEFLEX 830-160


DEFLEX E 830-160


DEFLEX 830-160