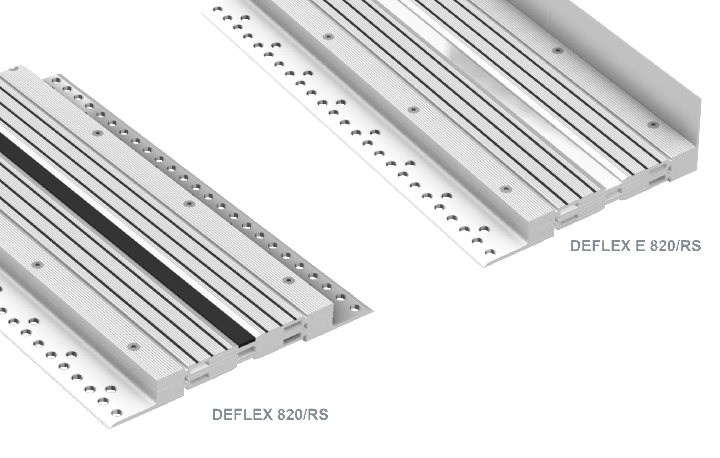 Technical description
Floor profile manufactured entirely of aluminium, foreseen for installation on unfinished floor surfaces. It is characterised by its anti-skid surface, appealing aesthetics and high compensation for vertical movements (cave-ins). The anti-skid surface is provided in inlays made of synthetic material (Nitriflex).
Foreseen for primary use in seismically-active regions and in regions under threat of mining damage (cave-ins). An optional available integrated inlay of synthetic material (Nitriflex) evening out the profile level is available.
The profile finds use for various kinds of floor finishes, i. e. screed, natural stone, stone imitation, etc.
Particularly recommended for use in public buildings, i. e. schools, pre-schools, railway stations, shopping centres, meaning - everywhere, where foot traffic is increased and where safety is required.
The profile conforms to fire resistance requirements for class E according to standard PN-EN 13501-1, according to which the products are able to stand up to the effects of a small flame without significant flame spreading - for a short time.
Profile available in flat and corner form.
Adhere to notices and remarks concerning installation.
Technical details
Flat bar profiles
820/RS-135

820/RS-210
820/RS-250

820/RS-340

Corner profiles
E 820/RS-135

E 820/RS-210
E 820/RS-250

E 820/RS-340

Fb [mm]

Nominal expansion slit width
135

210

250

340



B [mm]

Total expansion profile width
295

380

410

505


S [mm]

Visible profile width after installation
195

280

310

405



H [mm]

Installed height
32/ 45,5



BE [mm]

Total expansion profile width
250

335

365

460



SE [mm]

Visible profile width after installation
200

285

315

365


HE [mm]

Installed height
85/98,5

W ± [mm]

Expansion slit movement compensation
40(±20)

100(±50)

120(±60)

150(±75)

Colour
Aluminium - natural
Material
Aluminium - properties according to standard PN-EN 755.
Load [kN]**
Standard length [m]
4

** see load table in the 'Guidelines concerning expansion joint selection and design' tab
Installation diagrams
DEFLEX 820/RS-135


DEFLEX E 820/RS-210


DEFLEX 820/RS-135