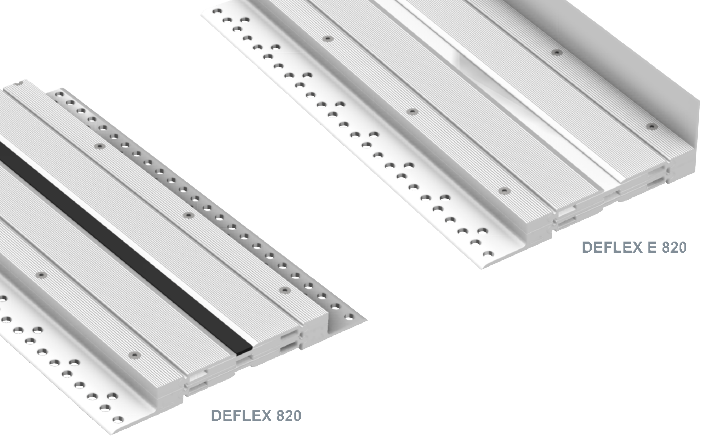 Technical description
Floor profile manufactured entirely of aluminium, foreseen for installation on unfinished floor surfaces.
It is characterised by appealing aesthetics and high compensation for vertical movements (cave-ins). Foreseen for primary use in seismically-active regions and in regions under threat of mining damage (cave-ins). An optional available integrated inlay of synthetic material (Nitriflex) evening out the profile level is available.
The entire visible outside profile surface is made of high-quality rippled aluminium, making the profile fit in greatly with rooms of a high finishing standard.
The profile finds use for various kinds of floor finishes, i. e. screed, natural stone, stone imitation, etc.
The profile conforms to fire resistance requirements for class E according to standard PN-EN 13501-1, according to which the products are able to stand up to the effects of a small flame without significant flame spreading - for a short time.
Profile available in flat and corner form.
Adhere to notices and remarks concerning installation.
Technical details
Flat bar profiles
820-135

820-210
820-250

820-340

Corner profiles
E 820-135

E 820-210
E 820-250

E 820-340

Fb [mm]

Nominal expansion slit width
135

210

250

340



B [mm]

Total expansion profile width
295

380

410

505


S [mm]

Visible profile width after installation
195

280

310

405



H [mm]

Installed height
32/ 45,5



BE [mm]

Total expansion profile width
250

335

365

460



SE [mm]

Visible profile width after installation
200

285

315

365


HE [mm]

Installed height
85/98,5

W ± [mm]

Expansion slit movement compensation
40(±20)

100(±50)

120(±60)

150(±75)

Colour
Aluminium - natural
Material
Aluminium - properties according to standard PN-EN 755.
Load [kN]**
Standard length [m]
4

** see load table in the 'Guidelines concerning expansion joint selection and design' tab
Installation diagrams
DEFLEX 820-135


DEFLEX E 820-210


DEFLEX 820-210