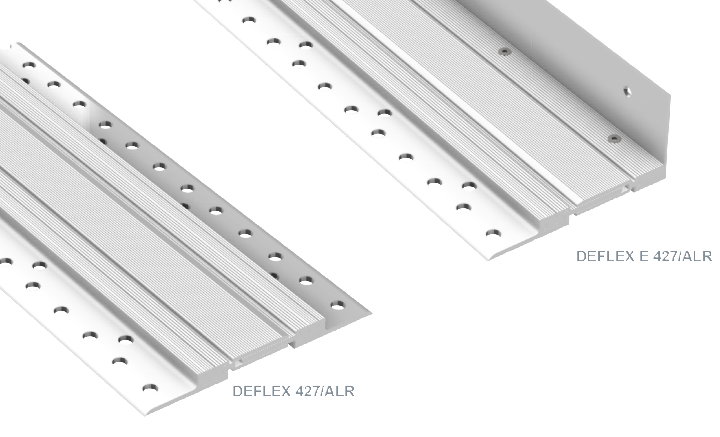 Technical description
Profile made entirely of aluminium, foreseen for installation in expansion slits with any surface finishes. It is characterised by a smooth surface finish (ALG) or a ribbed finish (ALR), depending on the relevant needs, as well as an aesthetically pleasing look.The special profile structure allows it to transfer high loads and cave-in forces.
The entire visible surface of the profile is made of high-quality ribbed aluminium, making the profile become a perfect fusion of aesthetics and usability, as a result of which it is particularly recommended for warehouse halls and manufacture halls, wholesalers as well as public buildings.
The profile finds use for various kinds of floor finishes, i. e. screed, natural stone, stone imitation, etc.
The profile conforms to fire resistance requirements for class E according to standard PN-EN 13501-1, according to which the products are able to stand up to the effects of a small flame without significant flame spreading - for a short time.
Profile available in flat and corner form.

Adhere to notices and remarks concerning installation.
Technical details
Flat bar profiles
427/ALR-040

427/ALR-065

427/ALR-100

Corner profiles
E427/ALR-040

E427/ALR-065

E427/ALR-100

Fb [mm]

Nominal expansion slit width
40

65
100



B [mm]


Nominal expansion slit width

197

228

265



S [mm]

Visible profile width after installation
97

128

165


H [mm]

Installed height
18,5/ 32/ 45,5


BE [mm]

Total expansion profile width
175

206

244



SE [mm]

Visible profile width after installation
100

131

168



HE [mm]

Installed height
85/ 98,5/ 112
W ± [mm]

Expansion slit movement compensation
10(±5)

20(±10)
30(±15)

Colour
natural
Material
aluminium - properties according to standard PN-EN 755
Load [kN]**






Standard length [m]
4

Installation diagrams
DEFLEX 427/ALR-040


DEFLEX E 427/ALR-040


DEFLEX 427/ALR-065