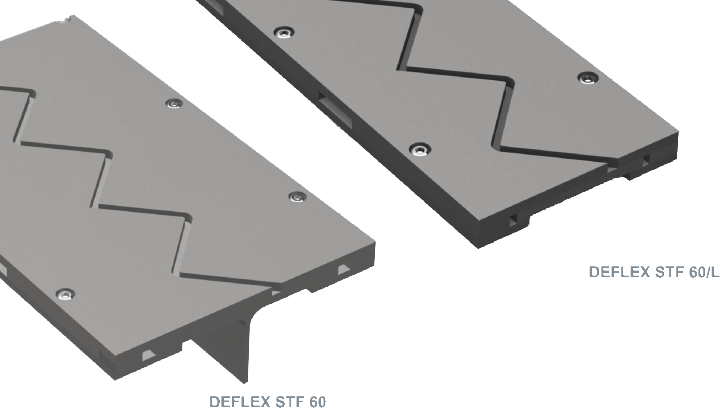 Technical description
Floor profile made entirely of steel, foreseen for installation on unfinished floor surfaces. The profile's special structure allows transfer of high loads.
Profile finds use in industrial buildings, factories, industrial halls and storage halls. It is particularly recommended for periods of refurbishment work at the site.
Installation is simplified through the use of so-called 'beams' that allow one to obtain appropriate profile spacing.
Optionally available stainless steel cover.
Adhere to recommendations and remarks concerning installation.
Technical details
Flat bar profiles
STF 60-100

STF 60/L-050

Fb [mm]

Nominal expansion slit width
20-100

0-50



B [mm]

Total expansion profile width
300/310

200/210


S [mm]

Visible profile width after installation
300/310

200/210



H [mm]

Installed height
H=28, H1 =100

H=28
w± [mm]

Expansion slit movement compensation
10(±5)/20(±10)

10(±5)

Coulor

natural

Material

steel

Load [kN]**



Standard length [m]

upon request
** See load table in the tab 'Guidelines concerning expansion joint selection and design'
Installation diagrams
DEFLEX STF 60-100


DEFLEX STF 60/L-050
DEFLEX STF 60-100