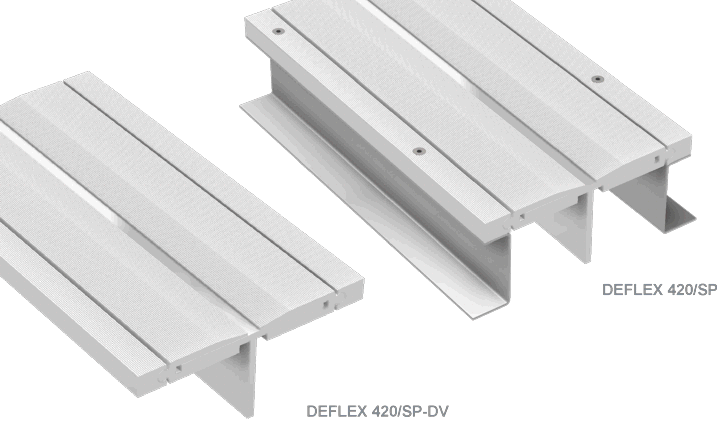 Technical description
Floor profile made entirely of aluminium. The interior part of the T-profile may be optionally made of stainless steel. Profile is foreseen for installation on unfinished floor surfaces. The profile's special structure allows transfer of particularly high loads with the expansion slit having a large width. The profile, apart from this, is characterised by great ability of building movement compensation. The entire visible profile surface is made of high-quality aluminium.
The profile finds use for various kinds of floors, covered with screed, natural stone, stone imitation, etc.
Particularly recommended for use in industrial structures such as i. e. warehouse loads, manufacture halls, etc.
Upon special request, a profile with a support structure - Deflex 420/SP - may also be made.

Adhere to recommendations and remarks concerning installation.
Technical details
Flat bar profiles
420/SP-DV-250

420/SP-250

Fb [mm]

Nominal expansion slit width
250

250



B [mm]

Total expansion profile width
320

320



S [mm]

Visible profile width after installation
320

320



H [mm]

Installed height
26/ 116 (96)

na zapytanie

w ± [mm]

Expansion slit movement compensation
100 (±50)

100 (±50)

Colour

natural

Material
aluminium - properties according to standard PN-EN 755 (stainless steel T-profile upon request)
Load [kN]**


Standard length [m]
2
** See load table in the tab 'Guidelines concerning expansion joint selection and design'
Installation diagrams
DEFLEX 420/SP-DV-250


DEFLEX 420/SP-DV-250

DEFLEX 420/SP-250