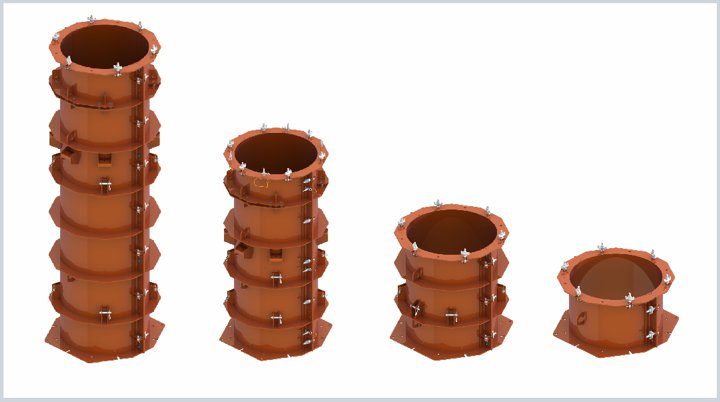 Product description
Circular pillars and columns play a unique role in construction, because they are a part of the structural design of the entire site. Nowadays, pillar outer surfaces are rarely subjected to finishing works after form removal, hence the look of the pillars determines the image of the entire structure. Steel pillar forms offered by Betomax allow the execution of reinforced concrete pillars, columns or supports with a circular diameter with very good quality surfaces.
Foreseen use.
Steel forms are components allowing shaping of reinforced concrete pillars, columns and supports with circular diameters. Used for structures, where good quality decorative concrete must be obtained: for bridges, viaducts, pedestrian overpasses, underground garages, framework structure buildings, halls, etc. A key advantage is the option of renewed use of the same components and assembly simplicity.
Properties
The forms allow shaping of pillars having diameters from 250 mm to 1200 mm each 50 mm, and from 1200 mm to 1500 mm each 100 mm. Available segment lengths: 0,5 m; 1,0 m; 2,0 m; 3,0 m. Beside standard dimensions, atypical sizes and shapes may be manufactured upon the customer's request.
The formwork closure method allows fast and secure assembly, and form ribbing guarantees rigidity, which allows the execution of a part with an equal cross section along the entire length. Allowable pressure of concrete on form walls is 150 kN/sq m, and this allows keeping of a very high concreting speed. Besides, the steel form components may be built into formwork system structures, allowing the creation of rounded corners in the created structure or i. e. oval-shaped bridge pillars.
In such a case, the maximum allowable concrete pressure on the formwork may amount to 60 kN/sq m. The installation of circular pillar steel forms is not complicated and goes quickly. Their use is particularly economically advantageous if a large number of pillars is made. They are easy to use. The steel forms are protected against corrosion by paint coats.