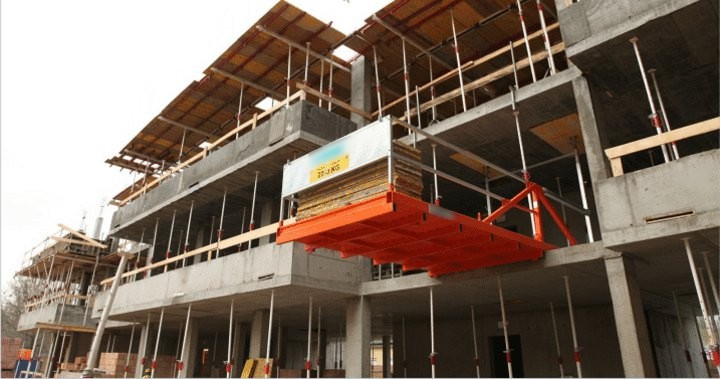 Product description
Transport of construction materials at the construction site is possible with the use of an appropriate lifting device (in most cases, a crane or tower crane). A problem arises if the transport is to take place to individual storeys or between them.
In such a case, receipt of materials is possible only from platforms extending beyond the building outline. The unloading platform was designed by Betomax for this purpose. It was tested thoroughly by the Polish Institute of Mechanised Construction and Rock Mining of Warsaw (Instytut Mechanizacji Budownictwa i Górnictwa Skalnego).
Foreseen use
The unloading platform is a temporary device foreseen for execution of transport works entailing transport or transfer of loads between different building storeys. The use of the platform greatly facilitates and simplifies the entire loading and unloading process. Material transport takes place using a hoisting device. After installation, the work level of the platform is equal to the ceiling level, hence pallet trolleys may be used for further transport from the platform. Maximum load bearing capacity of the platform is 2200 kg (two people and 2000 kg of materials).
Assembly
For transport, all components are protected against moving using bolts. Before assembly at the construction site, all components must be arranged according to the functional and operational documentation attached to the platform. After appropriate arrangement of the support arms, after securing all components and checking them, one can commence vertical transport using a hoisting device or similar. The platform should be set on a ceiling level with the part having arms. After appropriate arrangement of the platform front to the ceiling, the supports have to be extended, braced against the ceiling level and protected against moving by bolts.
Smooth height adjustment is achieved through screwing in of the top support part. The final stage is additional anchoring of the platform to protect it against shifting. After all these activities have been carried out, it needs to be checked whether all components are protected with bolts and safety pins. Should no divergences be detected, the crane sling may be disconnected. After these works are carried out, work may commence on the platform.
The unloading platform is equipped with special vertical transport grips.
Platform storage is possible by arranging up to three platforms on top of each other, and in case of truck transport, two platforms may be transported by stacking.
Properties
A de-assembled unloading platform weighs 1225 kg. The platform is manufactured of certified steel, closed profiles and rolled sheet steel, ensuring high strength and rigidity with minimum own weight. The individual load bearing structure components were joined using construction steel welding technologies, and the platform railings were joined using screws.
The entire structure is protected by orange chlorinated rubber paint, guaranteeing long life in natural conditions and good visibility at the construction site. Each platform is equipped with a nameplate and covered by a twelve-month warranty. Details of use were included in the operational and technical documentation.