KT02 aerial platform
KT02 aerial platform
Symbol


Load bearing capacity
[kg]

Own weight*
[kg]


Total weight with maximum load*
[kg]


Dimensions [mm]
Sales
unit


Art. no.


a

b

h

KT02 aerial platform
300 (Two persons, equipment)
280

580

1400

1025

2275

pcs.

SB-TW-KT-0-01881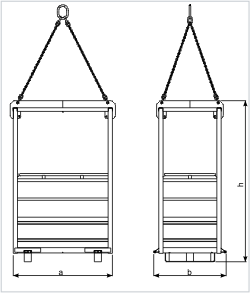 The set includes:
aerial platform,
chain sling.
Chain sling:
Four-rod, class 8, L = 1,6 m, WLL = 600 kg (32°), the platform sling system is an integral part of the set and a component of the entirety of the platform assembly.
KT02 WS 01 aerial platform
KT02 WS 01 aerial platform
Symbol


Load bearing capacity
[kg]

Own weight*
[kg]


Total weight with maximum load*
[kg]


Dimensions [mm]
Sales
unit


Art. no.


a

b

h

KT02 WS 01 aerial platform

300 (Two persons, equipment)
350

650

1950

1100

4250
pcs.

SB-TW-KT-0-10092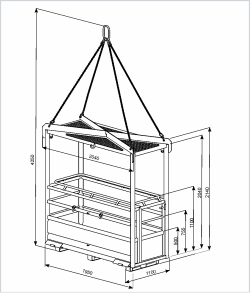 Platform foreseen for two people with equipment. Maximum platform load bearing capacity is 300 kg (two persons, 100 kg each + 50 kg of equipment for each person).
The aerial platform is made of certified steel, rolled sheet steel and closed profiles, which ensure high robustness and rigidity at minimum own weight. The roof cover is made of a mesh, which protects the persons on the platform against parts with a diameter exceeding 20 mm hitting the platform from above, ensuring at the same time good visibility over the platform.
The platform is equipped with grips allowing the installation of an additional rope ladder. The platform chain sling, which is its integral part, has the required CE certification. The entire structure is protected by orange alkyd paint, guaranteeing its good visibility and long life in natural conditions.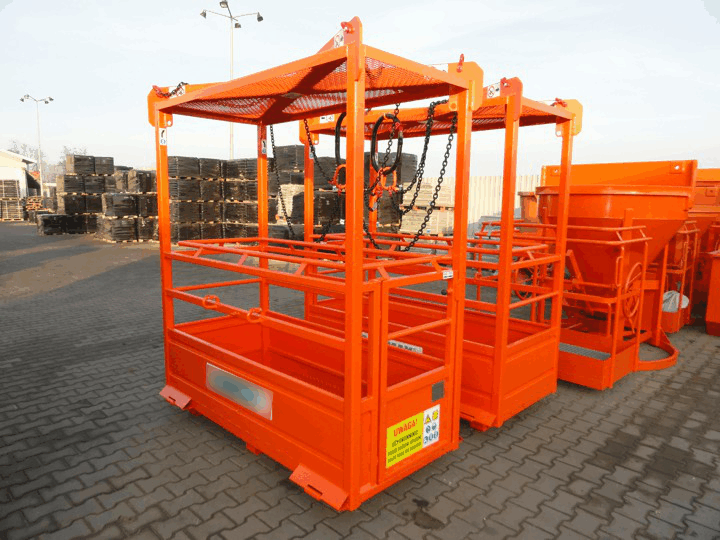 * weight without chain sling