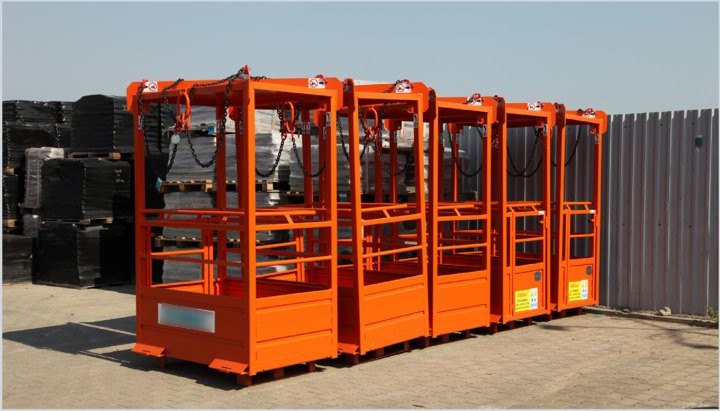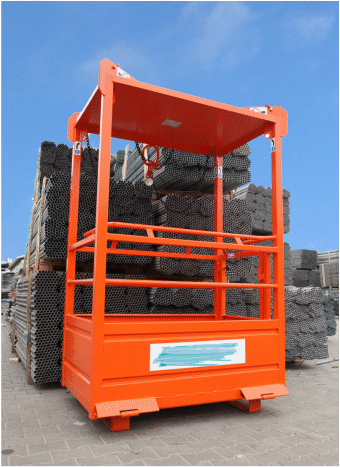 Every process related to construction investments requires lifting and transport of workers and materials. Such operations are possible through the use of diverse types of close-range transport options, such as: lifting devices (cranes, lifts, overhead cranes), elevators, etc. In case of transport of persons, when the use of goods and personal elevators is impossible, an advantageous solution is the use of aerial transport platforms from Betomax.
Foreseen use
The aerial platform for personal transport is foreseen for lifting and transporting for persons, together with their equipment, using a lifting device, to the individual levels of the structure under construction. Different work may be carried out from it, i. e. installation of lighting, façade components, etc.
The range of work to be conducted and the range of transport is only limited by the range and access ability of the lifting device (i. e. crane).
Properties
The platform is foreseen for up to two people with equipment, and the platform load bearing capacity is 300 kg. It is made of certified steel, rolled steel sheets and closed profiles, which ensure high resistance and rigidity, at the same time with limited own weight. The chain sling system of the platform carries appropriate CE certification. The entire structure is protected with orange chlorinated rubber paint, guaranteeing good visibility and long years of use in natural conditions.
A complete set of documents, along with the conformity declaration, CE certificate for the chain sling as well as operational documentation, containing details of use of the aerial platform, are delivered along with the device.
The main goal concerning the design of the aerial transport platform was safety of relevant personnel during transport or execution of installation works. The platform was equipped with OHS devices protecting the health and life of the employee, in accordance with recommendations of the Polish Office of Technical Inspection concerning use of cranes with a personal transport platform suspended from a hook.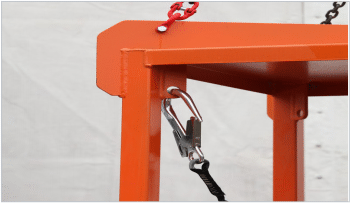 The platform has anchor points for the attachment of belts or safety suspension mechanisms.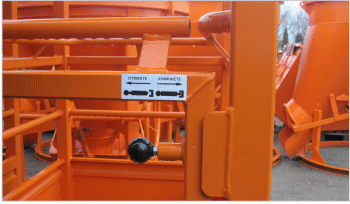 The barrier structure protects the workers' hands.
The installed door has a snap mechanism secured against accidental release.
Platform toeboards and limiters are there to protect employees' feet against injuries stemming from pressure of the aerial platform to the structure during execution of installation work.
Contrasting orange colour ensures very good platform visibility at the construction site.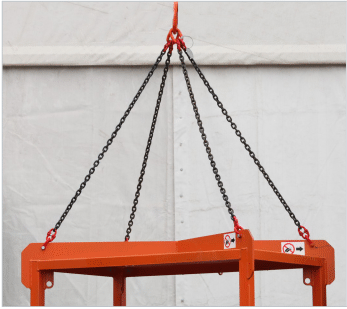 The roof structure protects employees from components falling from above onto the platform when it is in operation.
The platform is equipped with a certified class 8, four-rod chain sling, WLL = 600 kg.
The aerial platform has a nameplate with the following information:
- manufacturer name and address,
- construction year,
- serial number,
- own weight,
- maximum number of passengers,
- total weight with/without sling.