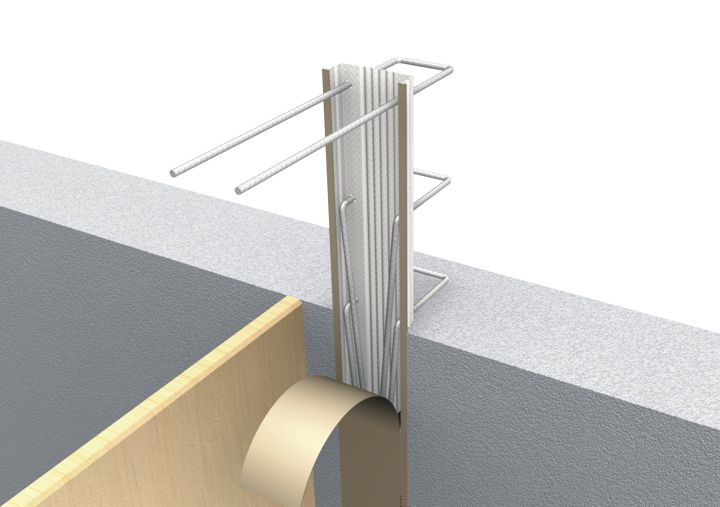 Product description
The BINDAX bendable reinforcement system is composed of a profile of galvanised sheet steel, in which ribbed reinforcement bars are embedded. On one side of the profile, the reinforcement bars are bent towards it and covered by protective synthetic tape.
The BINDAX rail is nailed to the formwork, on the side from which the first section shall be concreted, placing the profiles in such a say so that the bent parts of the reinforcement bars remained uncovered. After concreting the first section, and after removal of the formwork, the tape is removed from the profiles, the bent reinforcement bar parts are bent away, and the second section is concreted.
Advantages
very good adhesive properties to the concrete ensured by the use of perforated sheet steel
easy and fast assembly - the component is attached to the formwork by nails
possibility of adapting the BINDAX reinforcement components to various reinforcement systems in the reinforced concrete elements as well as to formwork type and shape
the BINDAX reinforcement system may be used in conjunction with injection systems thanks to very good penetrability of the injection media
the reinforcement bars are made of BSt 500S-grade steel or a grade of the same resistance and use characteristics
the system holds a technical approval issued by the Polish Building Research Institute of Warsaw, no. ITB-KOT-2019/0833
Use
The BINDAX bendable reinforcement system allows easy connection of reinforced concrete components, concreted during various construction phases. The system finds use during joining of walls with each other, ceilings with walls, stair landings, balconies, consoles, etc. at a later construction stage. This allows decisive time savings for the investment, and the reduction of the system formwork amount and of the system formwork component lease time (less complicated shapes).