ANTI-ADHESIVE LIQUID FOLBET

Description of the product
The Folbet liquid is modern polymer antiadhesive liquid which is used to lubrication of the formwork in aim to separate wood form or PVC from concrete. It doesn't contain any solvents, mineral oils, diesel fuel or paraffin oil. To using on the new and used forms (formworks) made by wood, plastic, steel etc. To using both on the building place and in the precast places. The Folbet preparation react to concrete by making layer which protect by binding of concrete to the surface of the forms. It lets to have smooth and uniform concrete surfaces without any stains and surface's damages. The preparation reduces the costs of cleaning and form's conservation- by multiple using forms become self-cleaning. Incombustible agent


The way of use
Antiadhesive Folbet liquid is ready to use, it can't be diluted. Formwork must be dry and clean. By the help of spray device it should be spread on the formwork a thin and uniform coat of the agent. FOLBET can be applied by the help of paintbrush, but it significantly increase expenditure and time-consuming. In case of extremely absorbent formworks it is recommended that increase dose of liquid. After drying of mixture it can be started concreting. Steel formworks, directly after timbering it should be cleaned and after that spray Folbet agent, which protect by corrosion.
Performance: 1 liter on 30m² of the formwork. Expenditure depend on the type and condition of the formwork surface.
Storage
It should be stored in positive temperature. Do not allow to freezing. Small quantities should be stored in plastic or steel containers. Avoid exposure to sunlight.
Safety
- According to actual law the agent was classified as safe.
- In normal conditions of using liquid and contained components are not dangerous to humans.
- During using inside rooms protect good ventilation.
- Untapped product should be utilized according to the rules of utilization chemical agents.
Technical and usage properties
Form
liquid
Colour
whitish
Application temperature
From -5°C

Thermal resistance
Up to 80 C °
Product has hygiene certificate of the Polish National Institute of Hygiene, no. PZH HK/105601/2003
Betomil anti-adhesion liquid

Symbol

Unit

Package
/Sales unit

Art. no.

Folbet 30

1 litrer


canister

/30 liters

CH-AA-00-0-30492
Folbet 200

1 litrer


barrel

/200 liters

CH-AA-00-0-30493
Folbet 1000

1 litrer

container

/1000 liters

CH-AA-00-0-30494

Wetcast-FormFluid 50 anti-adhesion liquid


Product description
Wetcast-FormFluid 50 is a special anti-adhesion liquid free from solvents, used in the manufacture of decorative concrete. The decorative concrete components are often manufactured using special forms of rubber, polyurethane or silicone. This technology, called the wet process, often requires the concrete mix, remaining in the forms for 12-72 hours, to be liquid.

Advantages:
This product helps maintain cleanliness and extends the usable life of forms.
This product is useful and appropriate for all kinds of concrete mixes.
It allows one to obtain high-quality concrete surfaces.
Leaves no concrete remains on the forms.

Usage
The Wetcast-FormFluid 50 is an anti-adhesion product used during manufacture of decorative concrete products, i. e. cobblestones or wall cladding.

Wetcast-FormFluid 50 anti-adhesion liquid

Symbol

Unit

Package
/Sales unit

Art. no.

Wetcast - FormFluid 50

1

liter

canister

/30 liters
CH-AA-00-0-02683

Wetcast - FormFluid 50

1

liter

barrel

/200 liters
CH-AA-00-0-02682

Wetcast - FormFluid 50

1

liter

container/1000 liters
CH-AA-00-0-02681

Mode of use
Before use, the liquid container should be shook. Using the spray attachment, apply liquid to form surface. It is recommended to use only small amounts of the liquid, note that the forms should be covered evenly. The product container should be closed immediately after use.


After the product dries, the forms can be filled. Note the quality of the concrete mix, the use of the Arcon-Fluid Plus plastifier is recommended. Arcon-Fluid Plus allows one to obtain a smooth concrete surface.

After the concrete mix solidifies, the concrete parts may be taken out of their forms. Form cleaning should be done with a trowel or spoon. In case of production continuation all it takes is spraying the form with the Wetcast product.
Economy
Approx. 30-100 m2/l.

Storage
Can be stored in its original containers over up to six months, protect against freezing. Shake before use.
Final result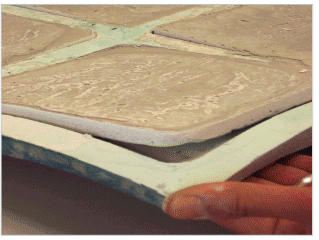 WABICON HP ANTI-ADHESIVE LIQUID


Product description
The Wabicon HP anti-adhesive preparation is a bio-degradable, solvent-free and mineral oil-free water-based product, fulfilling the strictest demands. After appropriate application, it creates a thin layer on the formwork surface, preventing adhesion of concrete to the formwork and facilitating form removal.

Use
The HP product is appropriate for various kinds of formwork, i. e. steel, wooden, fibreglass, cartridge. Wabicon HP is utilised both at the construction site as well as at precasting plants. It allows one to obtain a concrete surface without stains and with visibly fewer defects. Does not effect adhesion of plaster, of the paint coat, of wallpaper adhesive, etc.
In addition, its anti-corrosion properties prevent rusting of steel formwork and increase their lifespan. The use of Wabicon HP minimises formwork cleaning times.

Wabicon HP anti-adhesive liquid
Symbol

Unit

Package
/Sales unit

Art. no.

Wabicon HP

1

liter

canister

/30 liters

CH-AA-00-0-02680

Wabicon HP

1

liter

barrel

/200 liters
CH-AA-00-0-02679

Wabicon HP

1

liter

container/1000 liters
CH-AA-00-0-02678

Mode of use
Wabicon HP should be applied onto the formwork with a spray gun equipped with a special nozzle (approx. 0,3 mm) to form a thin, even layer. We recommend the use of the Hebau spray device. Highly effective anti-adhesion properties allow the manufacture of parts with complex shapes. In such a case one needs to take care of very precise coverage of all hard-to-reach spots. After Wabicon HP dries, concreting may commence. To prevent corrosion of steel formwork, it is recommended to clean the form directly after formwork removal, and spray it with Wabicon HP again.
Economy/storage
Approx. 30-100 sq m, depending on formwork type and its surface condition.
Store in positive temperatures (upwards of +5 °C), protect against sunlight.
Effects of use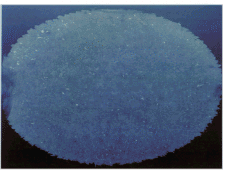 Wabicon HP anti-adhesion product after application of a drop (approx. 80 μl). Coverage area up to 44 cm2.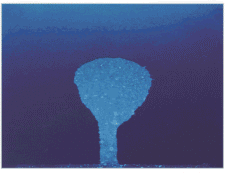 The same Situation after use of a traditional product. Coverage area 4 cm2.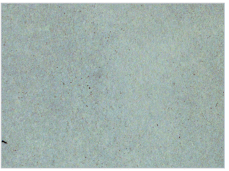 Concrete surface after use of the Wabicon HP anti-adhesion product.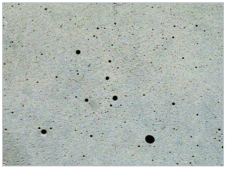 Concrete surface after use of a traditional product