A+B two-component adhesive

Product description
The A+B two-component adhesive is based on a specially modified liquid epoxy resin. It is used for gluing in concrete plugs, the aims of which are not only plugging up openings left over by cones, but also tightening the entire passage of the formwork tie against water pressure. Own research conducted concerning glue connection tightness spanned pressure values up to column heights of 50 metres.
Mode of use
The two-component adhesive is used for joining and sealing passage points of formwork ties. These spots are plugged up by plugs using the A+B adhesive.
The two-component adhesive comes in cans. To prepare the product, both components need to be mixed at a ratio of 1:1. The components are to be mixed until discolouration traces disappear, and if the colour is uniform, this indicates that the mix is uniform, too. The surfaces to be joined may not be fat or dusty. The glue usage time elapses after approx. one hour at a temperature of +20 °C. The glue joint should be approx. 2 mm in size, and excess adhesive should not flow outside. The glue should not be used if ambient temperature is lower than +8 °C.


Packaging/storage
A+B two-component adhesive comes in 1,5-litre cans.
Store at spots where room temperature prevails.

A+B two-component adhesive

Symbol

Weight [kg/pcs.]

Unit

Package/Sales unit

Art. no.

A+B two-component adhesive

1,5 x 2

1 liter

can/1,5 liter

CH-KZ-00-0-02778

Betofix adhesive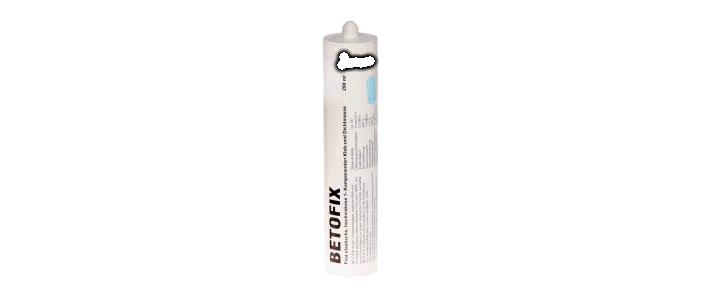 Product description
The Betofix adhesive is a single-component paste-like product used for gluing and sealing, based on a silane-modified polymer base, which becomes elastic when exposed to humidity.
Betofix is particularly appropriate for gluing mechanical assembly sealing bands that could be exposed to water. Thanks to the fact that it hardens quickly, it greatly differs from other adhesives. After hardening, it exhibits great physical properties, such as rubber-like flexibility and high adhesion.

Mode of use
The adhesive is applied by a hand mass pistol, and then spread, i. e. with a trowel, under the entire width of the Betofix film. In order to apply the proper amount of glue, trim the glue cartridge and press out the material using the gun in the amount required to install the Betofix film. The glue may be applied to a humid surface. The surface prepared for gluing could be, if possible, even and free of contaminations.
Note!
The Betofix adhesive contains no solvents, isocyanates or silicones. Still, before working with it, thoroughly study the safety manual. In case of products, which lack obligatory markings, note the safety indications required for chemical products. Product contains aminosilane, which could cause allergic reactions.

Hardening
Hardening time depends on humidity and temperature. Increasing temperature and humidity shortens the hardening time.

Technical details
Colour: white
Odour: Odourless
Density: approx. 1,5 g/cm3
Formation time: approx. 30 min
Hardness: 60 °Sh
Hardening rate: 3 mm/24 h
Tensile strength: 3,0 MPa
Elongation at break: 250%
Tension value: 1,6 MPa
Volume change: < 2%
Solid body content: 100%
Processing temperature: 5-40 °C
Application temperature: -40 - +100 °C
Threat from low temperatures: n/a
Storage temperature: 10-25 °C
Storage time: 12 months in original packaging
Betofix adhesive
Symbol

Unit

Package/Sales unit

Art. no.

Betofix H 600

szt.


cartouche

/

600 ml

CH-KZ-00-0-02772

Betofix H 9,5

kg

container/9,5 kg

CH-KZ-00-0-02773

Betofix VG

kg

container/4 kg

CH-KZ-00-0-02774

Betofix 290

szt.


cartouche

/290 ml

CH-KZ-00-0-02775

Betofix 600

szt.


cartouche

/

600 ml

CH-KZ-00-0-02776


Filler mortar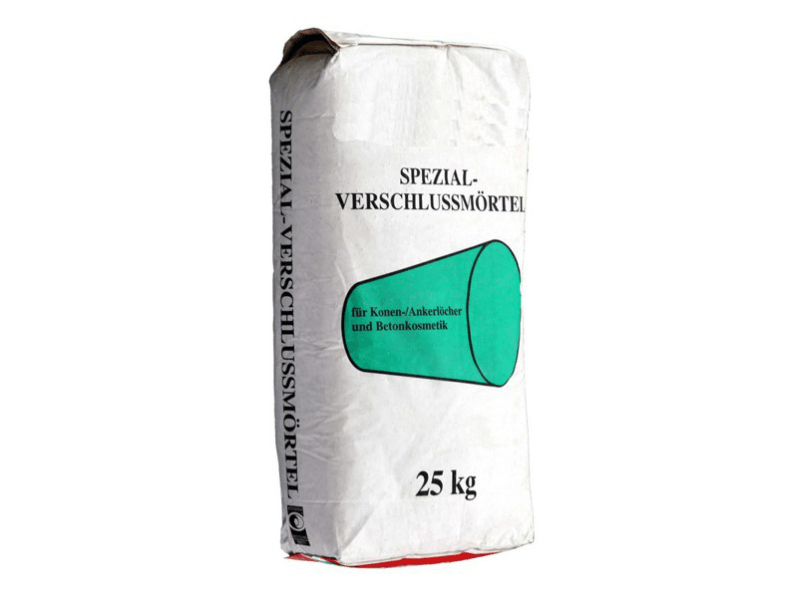 Product descriptionThe filler mortar is a ready dry cement-based mix with a granularity of 0-0,32 mm for filling spots left over after cones and anchors, and for finishing work.
Advantages:
does not contract during binding,
universal application, also during finishing works,
usage with mass injection gun.

Preparation
Depending on the opening size left over by the cone, anchor or flaw, use approx. 160-200 ml for each kilogramme dry mortar.
The entire volume of dry mortar must be mixed with 2/3 of water volume.
Mix the required volume of mortar with water until elastic texture is achieved as required.
Mixing time approx. 4 minutes.
Avoid using the mortar if the temperature is below 5 °C.

Sample uses for filler mortar and special mortar


opening left over after EX cone with FLUPP plug - approx. 500 openings from one bag
opening left over after EX cone, i. e. EX22/10, approx. 1200 openings from one bag
opening left over after FCB-15 (20; 26,5) B15 tie, approx. 60 openings from one bag
Filler mortar

Symbol

Weight [kg/pcs.]

Unit

Package/Sales unit

Art. no.

Filler mortar

25,00

1 kg

bag/25 kg

CH-KZ-00-0-02801



Starcret mortar


Product description
Ready-to-use cement-based dry mix.

Strength MPa
| | | |
| --- | --- | --- |
| after 3 days | after 7 days | after 28 days |
| 5,8 | 21 | 28 |
Usage
For repairs of damaged concrete or plaster surfaces
Advantages:
great strength,
uniform structure and colour.


Preparation
water consumption: 2,5 litres per 15 kg,
mix until mastic texture is achieved,
working time 20-25 minutes,
effectiveness: out of 15 kg dry mass, 7,5 litres of ready mortar may be achieved. Layer thickness from 1,5 mm to 5 mm.
Zaprawa STARCRET

Symbol

Weight [kg/pcs.]

Unit

Package/Sales unit

Art. no.

Zaprawa Starcret

15,00

1 kg

container/15 kg

CH-KZ-00-0-02796