Product description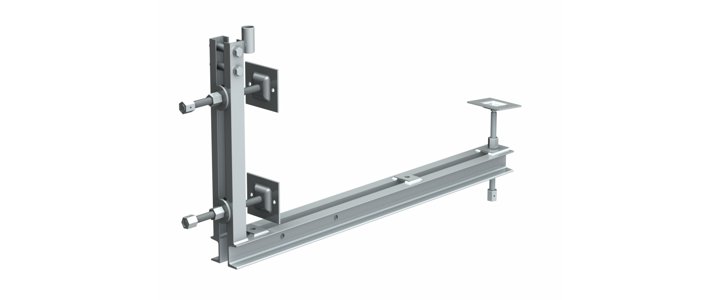 Cornice formwork supports
Name

Weight [kg]

Sales unit

Art. no.

Cornice support
42,80

pcs.

BM-WG-00-0-02669

Kobold B15

0,53

pcs.

BM-EM-00-0-00954

Threaded tie B15

1,55

mb

AS-DK-SC-0-00759

Threaded tie UNI15

1,44

mb

AS-DK-SC-0-00763

Disc nut B15 D70

0,406

pcs.

AS-DK-SC-0-05774

The cornice formwork support is a structural component allowing the execution of formwork and the concreting of cornices on engineering structures.
The structure of the cornice support component is made of certified steel. The support component has a thrust foot for stepless levelling, and supports with the option of adjustment of their spacing and extension, in order for one to be able to precisely shape the executed component. In addition, the support component has a seat for installation of Secumax protective railing pillars.
Support component spacing and possible formwork sizes are given in the table below:
Formwork size
Spacing of FORBOLD-K mounting components
Width
a [cm]

Height
h [cm]

Discance from edge
b [cm]

Load
[kN]

Separation between support components
[m]

40

40

25

27,3

1,5

40

50

25

27,0

1,3

35

50

25

27,0

1,4

50

40

15

28,7

1,4

50

50

15

28,0

1,2

50

60

15

26,3

1,0

Diagram for determination of support component spacing
Installation diagram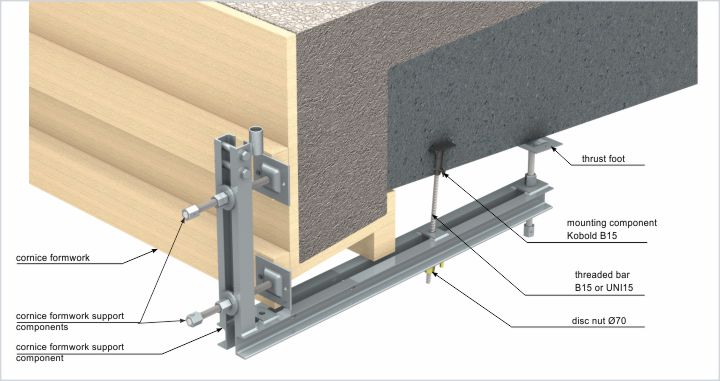 The cornice formwork support is affixed to the building load bearing structure by using FORBOLD-K B15 anchor components. The anchor components must be concreted in during the load bearing structure execution phase. The support component is anchored to the support structure using B15 or Uni15 bars and ø70 disc nuts. The thrust foot allows one to appropriately level the support component. The cornice size and shape is determined using support elements, to which battens and the formwork are affixed.