Investor: City hall of Łódź
General contractor: Warbud
Execution: 2004-2007
The design for the expansion of the group water treatment plant foresaw the addition of two complete process lines for municipal sewage with accompanying infrastructure. The process lines included, among others, reactors in the form of rectangular containers, with a length of 120 m and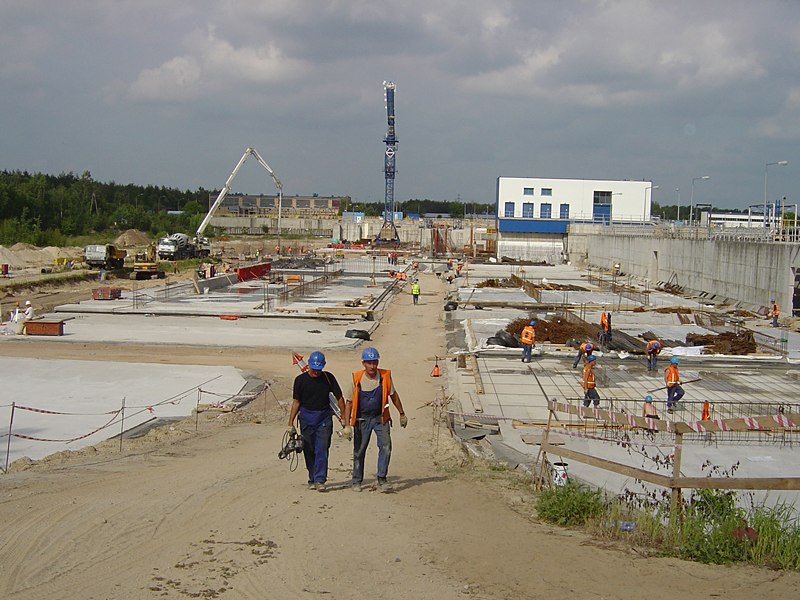 General view of the construction site
a width of 30 m, with overflow divisions, run surfaces for mechanical agitators and an outflow channel constructed at wall crowns, 6 m in height.The structure of the added reactors was joined with the existing objects, which required the usage of edge expansion joint bands along the entire length of the base plate - mechanical assembly to the existing structures. Due to the working environment, the band was attached to the bottom by corrosion-resistant flat profiles. The reactors, due to their immense size, were divided into separate fields using construction expansion joints. These joints were sealed by DBS Nitriflex sealing bands with the band core size amounting to 11 mm.
The band cross joints were created in advance on the construction site backlot, with straight welds only done at the site itself. During sealing of the plate-wall and wall-wall day joints, sealing steel sheets were used, utilising mechanical joints both with the wall expansion bands as well as along the individual steel sheet sections. Joints between the individual sewage pumping stations were sealed, upon breaking away, with FORBENT S sealings bands and P-100 injection hoses. All works related to the assurance of tightness of the process technical day joints and expansion slits were comprehensively provided by FORBUILD employees, utilising their almost ten
years of experience in terms of sealing of engineering and infrastructure sites, buildings and hydrotechnical structures. The highest quality of our goods and services provided during the expansion works for the Łódź treatment plant is ensured by the forty-year warranty issued by FORBUILD covering all executed sealing work.
FORBUILD products and solutions used:
- BESAPLAST Nitriflex corner sealing bands for mechanical installation together with accompanying equipment,
- BESAPLAST DBS internal sealings bands with a thickness of 11 mm
- sealing sheet steel
- FORBENT S swell bands
- P-100 injection hoses